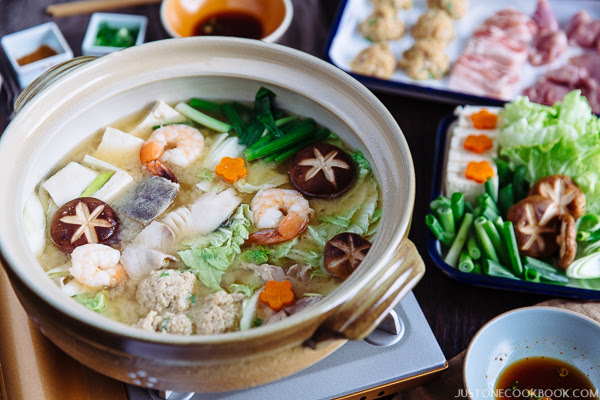 Chanko Nabe is a type of Japanese nabe (hot pot), which I think is similar to a stew (but with more broth).
Instructions
Gather all the ingredients for Chanko Nabe Broth.

To make the broth, in a Dutch oven or other large pot over medium heat, combine the broth, sake, mirin, ginger juice, and garlic and bring to a simmer.

Spoon several spoonfuls of broth into a small bowl, add the miso, and stir until smooth.

Gradually add the miso mixture to the broth in the pot, stirring to avoid lumps. Once the miso has been incorporated, do not let the broth boil.
To make the chicken meatballs:
Gather all the ingredients.

In a large bowl, combine the chicken, ½ beaten egg (reserve the remaining egg for another use), the ginger juice, soy sauce, corn starch, panko, and green onion. Using your hands, mix all together.

Once the mixture becomes a little bit white and well combined, shape the mixture into a ball. Sprinkle with panko as needed.
To cut all the ingredients:
Cut the cod fillet into 2-inch chunks, peel and devein shrimp, cut sliced pork belly into 2-inch pieces, trim the visible fat from the chicken thighs and cut into bite-sized pieces, cut the tofu into 1-inch cubes, and separate the leaves from napa cabbage and cut them into smaller pieces.

Cut Tokyo negi diagonally into 1-inch-thick pieces, cut the green onions into 2-inch lengths, and remove stems of shiitake mushrooms and make decorative cut on the caps if desired.
To ready the stew ingredients, place the meatballs, seafood, pork belly, chicken, tofu, napa cabbage, Tokyo negi, green onions, and mushrooms on platter.

Pour the ponzu sauce and sesame sauce (goma dare) into individual dipping bowls at each place setting along with chopsticks, a soup spoon (optional) and a soup bowl.

Place a portable gas burner and the nabe, and the stew ingredients on the table.
Add all the ingredients at the same time, with diners selecting them as they are cooked (the vegetables and tofu cook more quickly than the meatballs, seafood, and chicken).

Keep the broth at a simmer the entire time. If the liquid gets low, add a little water or chicken broth to have enough liquid to heat the noodles or rice at the end (even though you are thinning the broth, the flavorful ingredients you are cooking in it continue to enrich it).

When diners are ready, remove any solids in the broth and add the noodles or rice. Simmer until heated through, then ladle into the soup bowls and serve.

If cooking the stew ingredients on the stove top, cook in batches. Add some of each of the ingredients to the broth, simmer (do not boil) until cooked, and serve them, returning to the stove to start a new batch as each previous batch is eaten.
http://www.justonecookbook.com/chanko-nabe-sumo-stew/